MBARARA DISTRICT TO REDEVELOP KAKYEKA REGIONAL STADIUM
Mbarara District Council under the Chairmanship of Capt. JB. Tumusiime and the Technical leadership have emblessed sports development as a critical development factor for Mbarara District. 
Due to its centrality, Mbarara is a regional sports, business, tourist and route center for south western Uganda. As such has high growth potential in all these areas of development. To this effect mbarara usually hosts varoius sports events at District, Regional and National competetions at Kakyeka Stadium. Regional and National Trade shows are also usually held in Mbarara at Kakyeka Stadium. 
However, Kakyeka stadium due its old design and low capacity to handle the growing need for sport facilities/activities,  has become a big challenge to the region.
As such the District is preparing grounds for strategic development partners to work with to redevelop the stadium to meet Regional, National and International standards. In the meantime, the district has developed new designs of the proposed stadium and its facilities as shown here. 
PROPOSED KAKYEKA STADIUM MASTER PLAN 2017
PROPOSED KAKYEKA STADIUM MASTER PLAN - DETAILED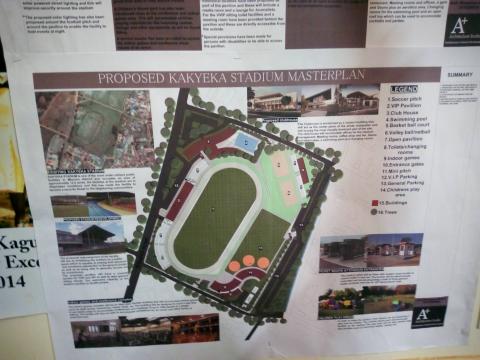 Once these plans are completed, normal procurement processes will commense to identify competent partners to develop the sports facility. We believe that this public facility once completed will greatly promote sports, business, image of mbarara district and the country at large.