Facts and figures
Location
Mbarara is the administrative capital of southwestern Uganda. The district boarders Ibanda and Kiruhura Districts to the north; Kiruhura and Isingiro Districts to the east; Isingiro and Ntungamo Districts to the south; and Sheema District to the west. The district headquarters is located 270 kilometers (170 miles), by road, southwest of the capital city, Kampala.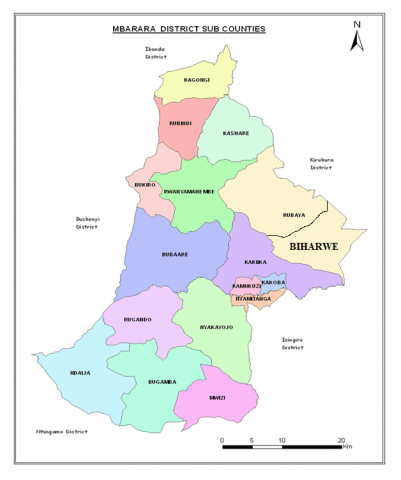 Size and population
Mbarara district lies between coordinates 00 36S, 30 36E and covers an area of 1,846.4 km2. It has a population of 472,629 of which females are 239,137 (52%) and males 233,492 (48%) with the urban population of 195,158 (41.1%). There is a declining rate in population growth from 2.58% (1991-2002) to 2.2% (2002-2014). With an average household size of 4.1 (the smallest in western Uganda) there are 112,849 households in Mbarara. Refer to UBOS for census 2014 Results 
Climate and landscape
Mbarara district receives an average annual rainfall of 1,200mm with two rainy seasons, during the months of February-May and September-December. Temperature ranges between 170C to 300C, with a humidity range of 80-90%. The topography is a mixture of fairly rolling and sharp hills and mountains, shallow valleys and flat land. The soils are generally sandy, clay and slightly laterite loams, suitable for cultivation.