Mbarara District to suffer due to under funding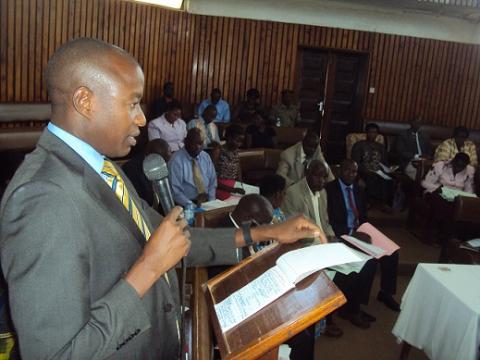 Mbarara Dictrict Chairman J.B Tumusiime Bamuturaki addressing Council meeting during a sitting held on 4th November 2016 at the Council hall.
Mbarara District is likely to face sharp challenges in service delivery if central government continues to reduce funding without considering the heap of needs in service delivery to the
population. The district needs funds to acquire land titles on government land that is being threatened by encroachers.
Mbarara District Chairperson Capt. JB Bamuturaki Tumusiime  revealed this and explained that without strategic enhancement on local revenue collection, the district is likely to end in a bad situation given the continued reductions of funding on Primary Health Care (PHC), School Facilities Grand (SFG), Community Agricultural Infrastructural Improvement (CAIIP) and Road Fund. He made the revelation while delivering the state of the district address during district council session chaired by the district Deputy Speaker Munanukye Venansi at Kamukuzi district council hall on November 04, 2016. He said the district leadership is committed at working as a team in providing quality services to the public but at the same time needs community support.

The Speaker appealed to district councilors in his opening remarks to always focus on deliberating on essential issues that will guide council to offer expected quality service delivery within the demands of the communities they represent. He stressed that cheap politics in identifying possible means of generating more local revenue must be put aside otherwise
cheap popularity in revenue enhancement can lead to slashing of the remuneration for the district councilors.
Tumusiime advised the district councilors to conduct regular meetings with their people to identify immediate gaps in service delivery in respective constituencies, generate reports for further management assisted by technocrats.
He appealed to the district councilors to prioritize motions generated by the district executive committee for being good for development of the district good welfare of the political leaders and technocrats; with no bad intentions of killing the district, he stated.
At the starting of the district council the Secretary for Production who is also the Vice chairperson of the district Godfrey Baryomunsi presented a motion directing everyone who wants to acquire land title  to pay a fee of Ug Shs 20,000= for checking deedplan and instructions to surveyrespectively which was passed collectively un-opposed .