MBARARA DISTRICT COMMISSIONS 900 MILLION TEA PROJECT
Publication Date:
Thursday, September 29, 2016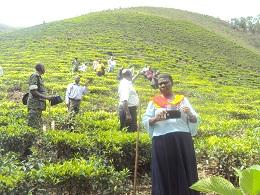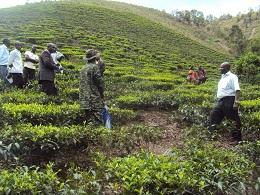 RDC Capt. Asiimwe and Maj. Sam Karogo Murari touring the tea gardens  

Tea planting project of one million five hundred thousand 1.5 million
tea plant lets  that will cost government shs 900 million under the
Operation Wealth Creation OWC has been commissioned for tea growers in
Rwampara county Mbarara district.

The commissioning ceremony was presided over by the Mbarara Resident
District Commissioner Capt. Martha Asiimwe conducted at the farm of
Mwita Asiimwe in Kyetsika cell Ndaija parish Ndaija sub county
Rwampara county Mbarara district today Thursday September 29, 2016 .

Asiimwe who is a progressive tea grower in Ndaija sub county and
supported by the National Agricultural Advisory Services NAADS through
the Operation Wealth Creation received two hundred thousand tea plant
lets..

The colourful ceremony was witnessed by the Mbarara District
Coordinator of Operation Wealth Creation OWC Maj. Sam Karogo Murali,
the Vice Chairperson and Secretary for Production Mbarara Godfrey
Baryomunsi, Mbarara district Production and Marketing Officer Dr.
William Mwebembezi including the Chairperson Ndaija sub county John
Nuwamanya among others.

Prominent tea grower Asiimwe requested the government to intervene in
time to help tea farmers establish their own tea factory to make tea
growing in Rwampara county real commercial crop explaining that the
current market with some local investors in tea processing is not
reliable as the price fluctuates during rainy season and incur heavy
loses.He said if the factory cant be immediate they could be linked
to Sheema tea growers in Sheema district for better marketing.

RDC Asiimwe urged sub county chiefs and parish chiefs to work hand in
hand with their respective local leaders in the monitoring exercise to
ensure all the one million five hundred tea plant lets are properly
planted to have better accountability of government resources geared
at eliminating poverty.

She commended the people of Rwampara county for overwhelmingly voting
for NRM and its chairperson President Yoweri Kaguta Museveni, urging
the general public to be serious in exhibiting seriousness on support
and execution pf government programs and projects.

The Vice Chairperson and Secretary for Production Mbarara Godfrey
Baryomunsi advised local council chairpersons and parish chiefs as
immediate supervisors of all government projects in the areas of their
jurisdiction to make regular reports on challenges and achievements
and submit their reports to respective higher authorities for immediate action.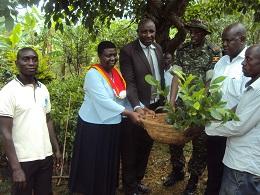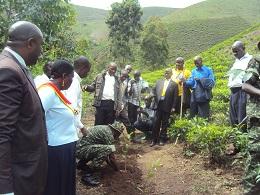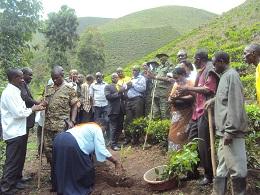 RDC Capt. Asiimwe and Maj. Sam Karogo Murari planting tea in Bugamba during project commissioning.