MBARARA DISTRICT 2016 -2021 LAST COUNCIL SITTING
MBARARA DISTRICT LOCAL GOVERNMENT LAST COUNCIL SITTING FOR THE TERM 2016 - 2021   
Mbarara District Local Government under the Chairmanship of Rtd. Major JB Tumusiime Bamuturaki for a term of office from 2016 to 2021 had their last Council Meeting on the 6th of May 2021 in the District Council hall under the Speakership of Hon. Ndyaguma Baram.  During the Council Meeting, the District Budget for the Financial Year 2021/2022 was approved amounting to 32, 842,059,000= (Thirty two billion eight hundred forty two million fifty nine thousand UGX only). Of this budget, 1,293,852.000/= was Locally raised Revenues, 3,354,242,000/= was Discretionary Government Transfers, 25,979,857,000/= was Conditional Government Transfers, 1,604,108,000/= was Other Government Transfers while 610,000,000/= was External Financing.
In his Speech, the District Chairperson thanked the RDC, DPC, OWC coordinator, the Executive members, all councilors and technical staff headed by CAO for the good cooperation and support extended during his term of office. He stressed that the district was able to register many achievements in Health, Education, Production, Works, Water and Environment due to the cordial working relationship among all stakeholders. Notably, he thanked the District Covid Task force for working tirelessly to manage the situation.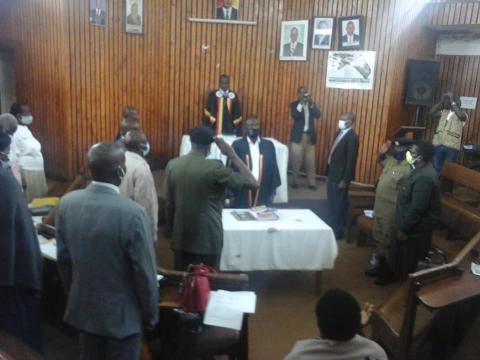 The Council session presided by the right Hon. Speaker Ndyaguma Baram (at the Front), was attended by the District Chairperson Rtd. Maj. JB Tumusiime Bamuturaki (on the right of Clerk to Council), the RDC of Mbarara, DPC of Mbarara, OWC Coordinator Mbarara - Col. Sam Murari Karogo, District Council members, CAO among others.