LAUNCHING BEAUTIFICATION OF BWIZIBWERA - RUTOOMA TOWN COUNCIL
BWIZIBWERA – RUTOOMA TOWN COUNCIL
Beautification program launched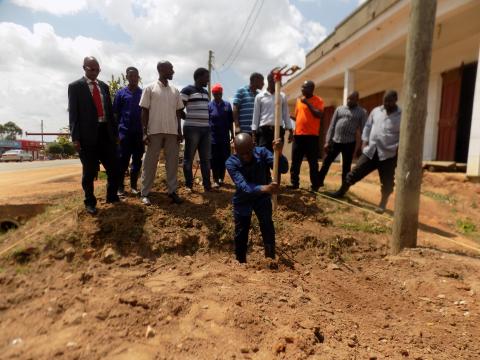 The Chief Administrative Officer Mbarara District Mr. Kweyamba Ruhemba while launching the beautification program of Bwizibwera – Rutooma Town Council asked the newly created town council to create a civilized and organized environment for people to work and live in.
 He said the people of Bwizibwera town council both political and technical leaders have accepted to use available resources to plan for organized development of their area.
 Mr. Kweyamba Ruhemba made the remarks at the official launch of the beautification program of Bwizibwera town council in Kashari Mbarara district on April 3, 2019 while planting flowers and trees on the Mbarara-Ibanda high way in Bwizibwera Town.
 He commended the Assistant Town Clerk of Bwizibwera Town Council Mr. Mugumya Nelson for collaborating with local leaders and inviting District leaders to participate in the exercise in accordance with the national planning authority Act 2002.
 The Chairperson Rwanyamahembe Sub County who is also acting as the chairperson of the town council Mr. Peterson Kakuru thanked the government for granting town council status to Bwizibwera-Rutooma that will enhance marketing of local products thus improving house hold income and tourism.
He warned all livestock owners to be mindful of their animals and protect them from criminal trespassing eventually destroying flowers and tree seedlings planted in town.