SHS. 85 million Small Animal Clinic and Laboratory Commissioned at Mbarara District Headquarters
MBARARA: A Small Animal Clinic and Laboratory which costed government shs 85m= was constructed at Mbarara District headquarters to be managed by the department of veterinary of Mbarara district local government has been commissioned with a call upon the livestock farmers to make use of the facility in case of disease outbreaks and for checking the status of their livestock.
The call was sounded by the Mbarara District Chairperson Capt JB Tumusiime Bamuturaki who represented the State Minister of Animal Industry Joy
Kabatsi at the function on Friday April 21, 2017.
The Chairperson ULGA and District Chairperson Lwengo Godfrey Mutabazi witnessed the function representing expected benefiting districts.
The Small Animal Clinic and Laboratory is a modern and well equipped livestock facility that will be used to examine the endemic and contagious
livestock diseases such as East Cost Fever which is a tick born disease which affects mainly exotic breeds, anthrax, Foot and Mouth Diseases (FMD)
among others and diagnosed at minimal fee.
Capt JB Tumusiime said the facility if well managed and maintained it will help farmers to examine and treat their animals in case of any outbreak of livestock diseases. He called upon all the farmers to utilize the facility by taking their animals for proper examination and treatment when they fall sick instead of the farmers treating themselves wrongly which at times causes resistance to drugs. He clarified that, "Since we now have the laboratory I call upon the farmers to make sure that they utilize this facility; adding that sometimes you hear that farmers are treating their animals but that they are not healing it's because they are treating them with wrong drugs Capt JB Tumusiime said.
The Mbarara District Production and Marketing Officer Dr. William Mwebembezi who is also the District Veterinary Officer said farmers will benefit directly as the facility  will reduce on the costs incurred in treating diseases they do not know since the laboratory will now be producing results from samples instantly instead of taking them to Kampala and Entebbe.
"I think government has not gone wrong, this Laboratory facility will stop the current emerging tick and diseases resistance at a level which we think is going beyond the control of an individual farmer". He noted.that farmers will be paying for the service of sampling to maintain the facility.
Dr. Mwebembezi Noted that this is the second animal clinic in Uganda apart from the animal clinic in Wandegeya Kampala that was constructed in 1968.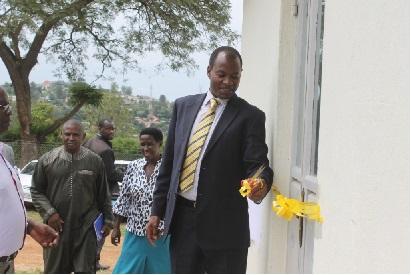 District Chairman JB Tumusiime commissioning the Small Animal clinic at Mbarara District Headquarters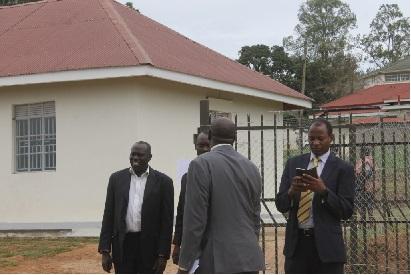 L- R: CAO Felix C. Esoku, Speaker Balamu, Vice C/Man Godfrey and Chairman JB Tumusiime during the commissioning of the small Animal Clinic at Mbarara District Headquarters.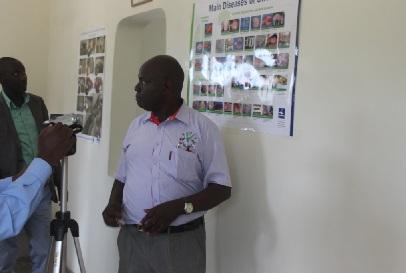 Dr. Mwebembezi explaining to ULGA Chairman about the small animal clinic during the commissioning