MBARARA DISTRICT RE-GRAVELING 3KM ROAD AT SHS. 30 MILLION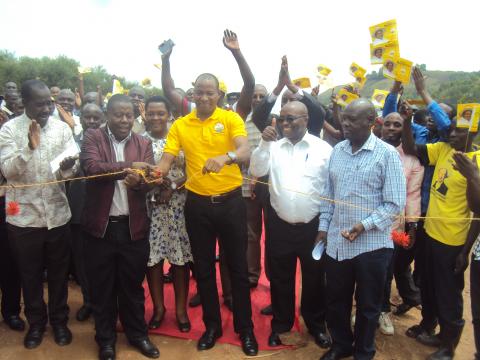 Center LC 5 Chairperson Mbarara Capt JB Tumusiime Bamuturaki and Hon. Ngabirano Charles at the launching ceremony for regravelling of Akarangara-Bugamba road 3km that will cost shs 30m
March 05, 2018, Mbarara district Chairperson Capt. JB Bamuturaki Tumusiime has warned the public who refuse community access roads to pass through their land in demand for compensation to stop the habit.
Tumusiime explained that community access roads are there to help people to ease transportation of their commodities and services therefore no one should sarbotage the work and anyone who attempts should be communally punished.  When any one refuses community action, then government will have to intervene.
He sounded the warning while presiding at the launching ceremony of a 3km community access road of Karangara- Bugamba road Rwampara County Mbarara district on March 05, 2018. The regravelling of Akarangara- Bugamba road project will cost government shs 30 million funded under the Uganda Road fund.
Capt. Tumusiime noted that there is no compensation on community roads therefore locals should accept to give out their pieces of land so that their communities can access quick development from eased
communication systems.
In his speech the Rwampara County Legislator Hon. Charles Ngabirano urged the residents to put the road in use effectively by improving on their economic activities so that they can produce and take more to markets but not leaving the road to drunkards and criminals to take advantage that will not fight poverty.
Ngabirano thanked Mbarara district local government leaders for balanced distribution of resources within the small district more especially in improvement of the infrastructure development