MBARARA DISTRICT LOCAL GOVERNMENT- VERIFICATION OF PENSIONERS
As part of cleaning up pension files for district pensioners, Mbarara District local government like any other district has embarked on a Verification of Pensioners exercise.The exercise has started on 27th March, 2017 and will end 0n 31st March, 2017 at the District Headquarters at Kamukuzi Mbarara.
All Pensioners MUST appear in person and come with their National Identity Card. This exercise is a requirement of the Ministry of Public service of Uganda and all Districts are required to undertake it.
The Verification Exercise will be able to:
1. Identify genuine Pensioners through conducting the Pensioners' Census and eliminate Ghost Pensioners currently on the Pay Roll
2. Verify whether the current beneficiaries are the rightful beneficiaries
3. Compare information on Pension Files and National Identity Cards to establish whether the two match. Any mismatched information will be harmonised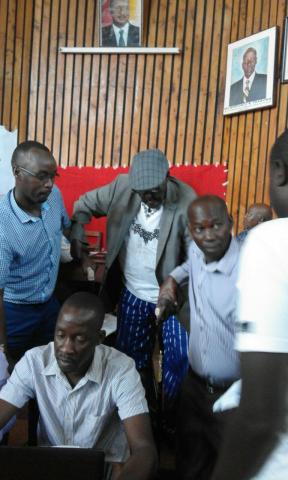 Ag. PHRO ALLAN KAGABA and Senior INternal Auditor, MOSES ASHABA supporting very old pensioners during the verification exercise