MBARARA DISTRICT COMMISSIONS ROAD CONSTRUCTION
The Chairperson Mbarara District Capt. JB Tumusiime has directed all local council one chairpersons to always cooperate and work with road engineers in the construction of off shoots on all public roads as a strategy of giving authority and responsibility to the local community.
Capt JB Tumusiime gave the directive while officiating at the launching ceremony of heavy grading and shaping 18.9 km road network in Bukiro sub county Kashari county Mbarara district at Kakondo and Rubingo trading centers yesterday April 19, 2017; The Project will cost the government shs 25.2 million under the mechanized routine maintenance.
The roads to be graded will include one part of district feeder road of Bukiro-Rubaare-Kagongi 10 km that will cost shs 12 million, and two community access roads of Nyarubungo-Orukono- Bukiro market which will be worked on with spot gravelling on bad areas of 3.5 km costing shs 9.8 m= and Ihanika-Rwamagaju of 3.4 km grading only costing shs 3.4m=.
Capt Tumusiime encouraged the people in the district to promote the spirit of competitiveness in educating their children to attain everlasting wealth of knowledge and skills in fighting poverty that will generate better future and sustainable development rather than depending on Operation Wealth Creation inputs which can be affected by climate changes and at times stolen by thieves.
He urged the population to be security conscious by strengthening neighborhood watch of strangers who come into their communities and create hostile environment to all suspected criminals. He stressed that the criminals are known by local leaders, he said he is surprised why these suspected criminals are not reported to relevant security agencies for appropriate disciplinary action.
The function was witnessed by the District Councilor Bukiro sub county also charged for Special duties as Secretary for Works and technical services Tom Karuhanga who thanked the Mbarara District Chairperson Capt JB Bamuturaki Tumusiime for his tireless efforts in lobbying from the central government where he managed to get extra culverts that will be installed on various roads that are in bad condition including those in Bugamba sub county where the situation is alarming.
The Sub county Chairperson David T. Kitengye and his Sub County Executive committee members and the Manager Force Account in Works department Mbarara district witnessed the well attended functions.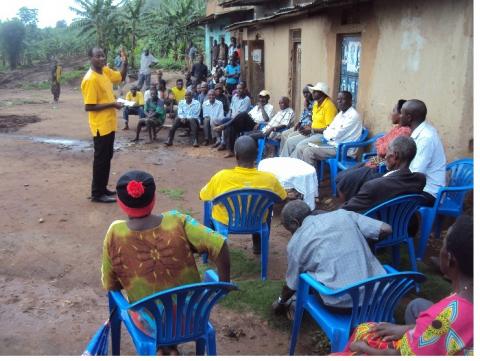 Mbarara District Chairman Capt. JB Tumusiime during the launch of 25.2 km Road Construction