DISASTER!!!!! HAILSTORM HITS RUBINDI SUB COUNTY - MBARARA
Publication Date:
Thursday, January 25, 2018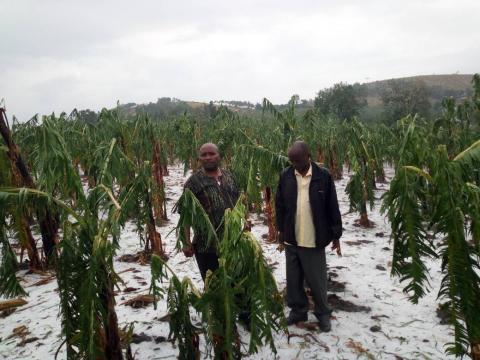 A Disastrous HAILSTORM badly hit Rubindi Sub County in Mbarara District on 24th January, 2018 at around 3:pm. Two Parishes of Kabaare and Karwensanga were greatly damaged. In total 7 Cells/villages were affected namely: Orukiri and Kabaare in Kabaare Parish and Kayonza, Mushunga, Omukarugu, Nshozi and Rwobusisi in Karwensanga Parish.
According to Hon. Basil Bataringaya (Area Councilor) who rushed to the scenes, this was the worst disaster he has ever seen in his lifetime in his area. Together with the Deputy Speaker Hon. Venance Munanukye they visited most villages and were overwheled by the level of desruction. 
The critically affected things are:
Crops: Banana Plantations, Coffee plantations, Gardens of Potatoes, Cassava, Passion Fruits and all other fruits generally. 
Animals: Cattle, Goats, Sheep, Pigs including Chicken and wild birds and animals. 
Humans and settlements: Roofs blown off, High risk of children contracting Pneumonia, Terrible coldness to poor families who dont have blankets. 
APPEAL: 
we appeal to Central Government and Ministry of Disaster preparedness in particular and other NGOs, People with a good heart to come to the rescue of our poeple in three ways:
1. In the Interim
Provide relief food items like posho, rice and beans, Clothings, blankets, Roofing materials, emergency drugs and conforting the population to keep calm
2. Mid Term
Provide iron sheets, Seeds and planting materials, Restocking of lost live stock and repair of feeder roads
3. Long Term
Offer Bursaries to pupils and students since most revenue sources have been destroyed
 More Photos