HEAVY RAINS DESTROYED PROPERTIES IN BUKIRO SUB COUNTY MBARARA DISTRICT
Publication Date:
Wednesday, October 5, 2016
Mbarara district leaders led by Mbarara district Chairperson Capt. JB Tumusiime Bamuturaki have visited and inspected Bukiro where disaster occurred on 3rd October 2016. The heavy rains swept several gardens, plantations, water sources and roads in Bukiro sub county Kashari county for the second time leaving many homesteads worried of their lives.
Comforting the locals in Kakondo one and Kakondo two villages in Bukiro parish Bukiro sub county, the Mbarara district Chairperson Capt. Bamuturaki advised the people to be extra careful given the current climatic changes.
He said the district does not have funds to provide immediate support to the victims affected by the disaster but will communicate to the Office of the Prime Minister and the Ministry of Relief and Disaster Preparedness for necessary support.
He however, advised them to avoid building in valleys where water runs through, irresponsible digging along the slopes of Buhweju Mountains and to minimize consumption of alcohol.
About building their houses, he advised the public to make use of the district physical planner and Engineers to avoid making loses and putting their lives in danger.
The mudslides originating from Buhweju Mountains resulting from degradation of the hill slopes destroyed community water sources that will cost government over eighty million shillings to reconstruct.
The Chief Administrative Officer Mbarara District Mr. Felix Cuthbert Esoku warned the residents to be extra careful expressing fears about the outbreak of diseases
like diarrhea and cholera which he said should be reported to the sub county health staff and community immediately in case of occurrence.
Captions of the sitiuation are shown below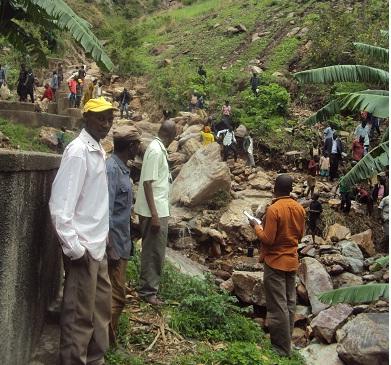 District Roads and Water Officers assessing the extent of damage to roads and water sources amidist stranded residents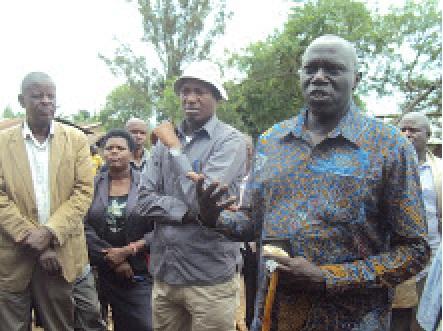 District Chairperson (Middle), CAO (Right) and Area Councilor (Left) assessing the extent of damage and comforting residents.